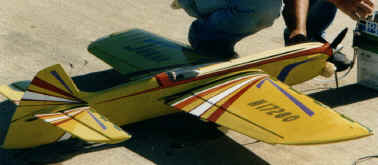 This Junar was designed and flown by Bill Werwage at the FAI team trials in Mount Comfort Indiana.

This is one of Bob Hunt's airplanes that he flew at a FAI Team Trials many years ago.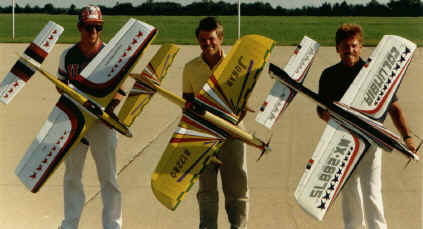 The USA FAI Team in 1989 if I remember correctly. That's the trouble with not writing the dates on the picture envelopes. Bill's Junar was so quiet at that FAI contest that you could here the prop over the exhaust most of the time. Jim was hammering almost perfect flights at 4.8 second lap times with his Columbia and Walker was still flying a ST60 I believe.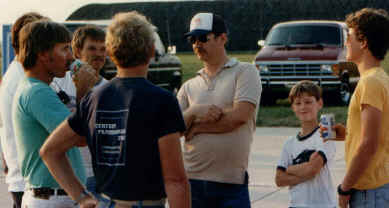 Taken in 1989 I believe at the FAI Team Trials in Mount Comfort Indiana. Left to right are Windy Urtnowski, Bill Werwage, Mike Rogers back, Bob Hunt, Robbie Hunt and Nat Gifford. Check out little Robbie, he was the only one that knew the picture was being taken.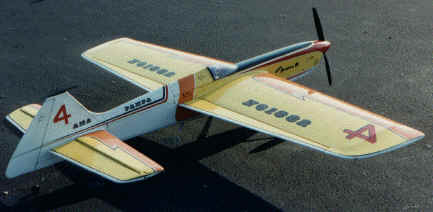 Here is one of Bob McDonald's beautiful planes. Taken at a FAI Team Trials.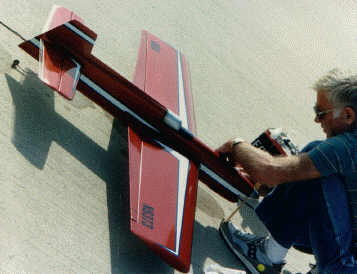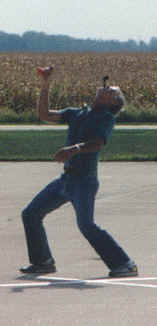 Do I really need a caption on this one? One of the true gentlemen of the hobby, Bob Gieseke.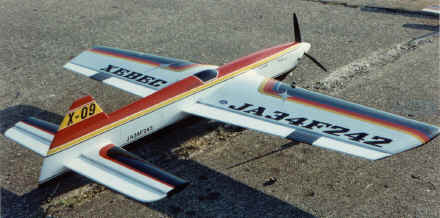 This Picture was taken at a Nationals in Lawrenceville Illinois. This beautiful airplane was designed and constructed by Sadahiko Yoshimura. Sadahiko has been building the Xebek line of airplanes for over 20 years. His latest Xebek has take-a-part wings. Thank you Hiroyoshi Ohba for the information on this airplane.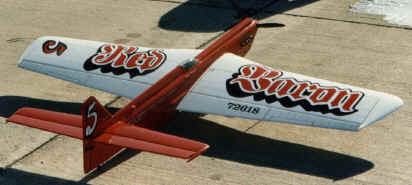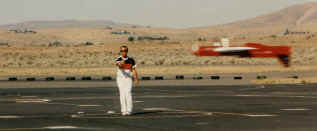 Windy Urtnowski's Red Baron taken at a Mount Comfort Team Trials. One of my favorite paint schemes. The picture of the plane flying was taken at a Washington State nationals I believe.
Joe Reinhart's beautiful airplane. Picture taken at the Lunkin Airport Flying Field in Cincinnati. It's December as I write this and the green grass looks pretty good in the background of this picture.